Jun 27, 2023
Ladies Trophy 2023: Emma Twigg!
Under a scorching hot sun in 31 degrees Celsius it was ladies first when it came to the afternoon finals at the Bosbaan on Sunday. Let's take a look at the race, which is certainly one that we will remember for years to come.  
Lights out and away they went! It was Martine Veldhuis (NED) who pulled away fast with a quick and highly efficient start. She knew that in order to compete with the rest of the field later in the race she had to be away first and so she did!  Top-favourites Emma Twigg (AUS) and Roos de Jong (NED) followed closely behind, with German rower Juliane Faralisch alongside them. Although not fastest out of the start, it was Twigg who attacked at 200m to take over the lead. She came across the first 500m in a fast time of 1:49.80.  De Jong trailed closely behind and the gap at 500m was just 0.44 seconds. German sculler Faralisch crossed the 500m line in third place. But the battle for the Trophy seemed to go between de Jong and Twigg.
It was around 750m that Twigg really started to pull away from de Jong, who could not respond to this attack and had to give in half a boat length. Towards the 1000m Twigg could build this gap and de Jong lost contact. It was still Faralisch who put up a very brave first 1000m and managed to hold on to that third place. However, behind her, Hodgkins-Byrne (GBR), who did not have a very fast start, was catching up and started to row through the rest of the field to fourth at the 1000m. 
Unfortunately, the Belgian U23 rower Mazarine Guilbert could not keep up with the high speed from the start on and trailed in sixth place. She did manage to keep a very consistent pace throughout the race, but will just have to find a little bit more speed in that middle part to be able to really compete with the big league. We do hope she has convinced the Belgian head coach to give her a spot in the Belgian team for the World Championships! 
Meanwhile, de Jong did not let Twigg extend her gap and even placed a clear and decisive attack around the 1250m mark. However, Twigg could (seemingly) easily fight off the attack and soon after managed to extend her lead. Behind the fight in the front there was another thrilling race going on for that third podium spot. Hodgkins-Byrne was getting up to steam in that second 1000m and also managed to row past Faralisch to take over third place by the time they reached the 1500m mark. 
In the last final 500m it seemed that defending the attack from the Jong earlier in the race did cost Twigg some costly energy and de Jong gave another push. She managed to close the gap a little bit with a very powerful final sprint. However, with 250m to go only a boat-stopping crab could keep Twigg from victory. Despite exhaustion she showed powerful and long strokes in her final sprint and smoothly rowed to the finish line. She crossed the line in a whopping 7:27.15  and claimed the ladies trophy for the third time in her career!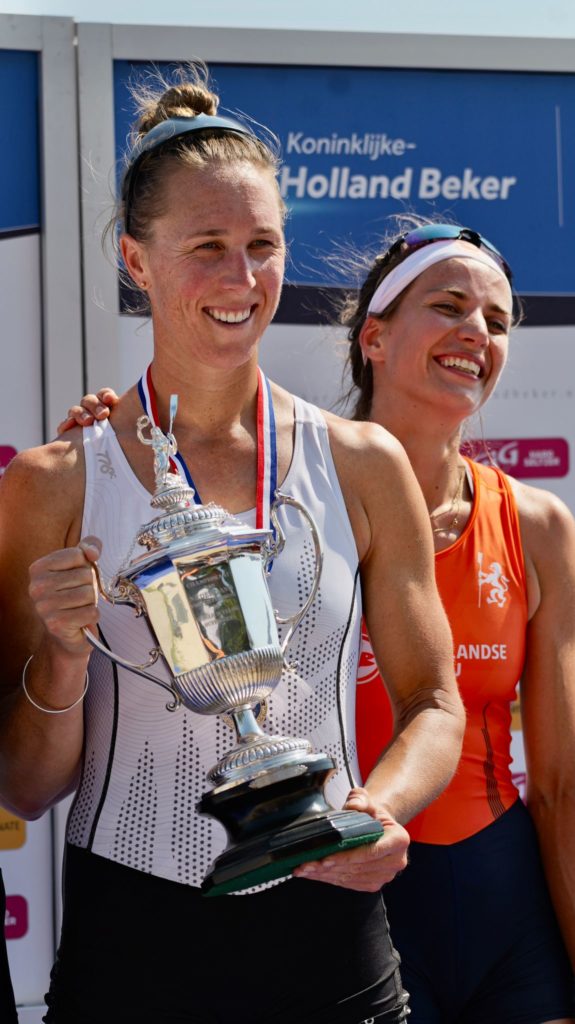 De Jong had to settle for second place (this time). However, she came out of the boat smiling broadly, clearly very happy with her race and the final result. Hodgkins-Byrne crossed the line third, almost ten seconds behind de Jong and twelve behind Twigg, but wow what a race from her! Best of luck in Henley next weekend, we are sure that this race will have instilled some confidence! Faralisch unfortunately could not keep up quite the same pace in the second half of the race, but she did manage to finish fourth, just in front of Veldhuis who pulled off a really hard final sprint to see whether she could close the gap. A brave row from both girls. As mentioned above, Guilbert came in last, but certainly not least. 
What an edition of the Ladies Trophy this was. Thank you to all participating athletes for your brave performances and spectacular racing.  We hope to welcome you back next year!