Based on advice from the fairness commission, the regatta team decided to implement changes in Sunday's programme. All normal events will have a time-trial in the morning, followed by a Final A and sometimes a Final B in the afternoon.
Straight finals are included in the Time-Trials
Main events (M1x, W1x, JM 1x and JW 1x), Freshmen's events and corporate 8+'s are excluded and will proceed normally
The new time-table is available from the section Time-Table on this page.
Q&A
Q: I cannot make it to the races for lanes of straight finals
A: These are not obliged. During the race for lanes, the best lanes of the finals will be awared to the fastest crews. Crews that did not participate will be assigned a remaining empty lane.
Q: I'm a lightweight crew with a straight final, and I will not take part in the Time-trial. When do I need to weigh in?
A: You can weigh in between 2 and 1 hours before the time trial OR between 2 and 1 hours before the straight final
Traffic rules during time-trial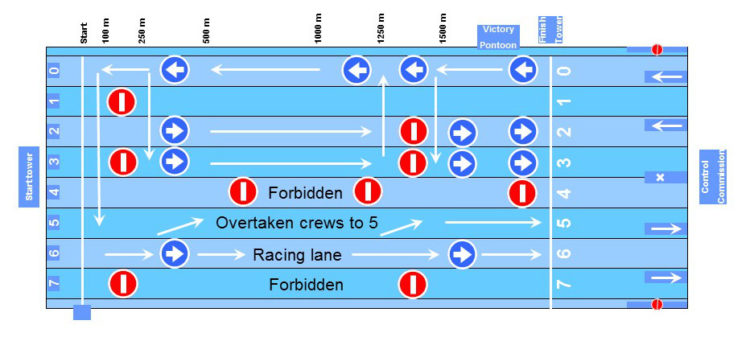 Motivation
The wind will cause a significant difference between the lanes. We acknowledge that the fastest crew should win. This fairness decision ensures this: the fastest crews in the time-trial will be allocated to the favourable lanes in the finals.
As we understand many rowers wish to train side-by-side racing, we've implemented additional B-finals in the afternoon.