Jun 25, 2017
Three generations of success
-The Men's Eights final at 5:12 pm will feature, among others, three
home crews: KNRB 1, KNRB 2 and KNRB 3. As you may know, KNRB is the
abbreviation used for the Royal Dutch Rowing Association, and they
have entered thee rowing generations: the Junior Men's eight, the U23
Men's eight, and the Senior Mens's eight.
The story of successful Dutch eights is not a long one thus far. In
1996 the legendary ''Holland 8'', stroked by Nico Rienks, rowed to an Olympic
gold medal in Atlanta. A portion of the crew tried to repeat the feat
in Sydney four years later, but stranded in the repechage. The Holland
8 then recovered with a silver medal in Athens 2004, and they added a
bronze at the recent Olympic Games in Rio last year.
Some may ask: will the golden times of the famous 1996 Holland 8 ever
return? The answer may be present at this Aegon Koninklijke – Holland Beker as the future
generations will show their potential alongside their senior
colleagues. The Dutch U23 eight in particular has a lot of prospect,
as they are reigning World Champions.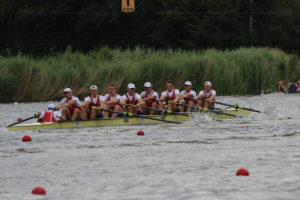 They took the title last year with a gutsy and dominant first
kilometre, after which they successfully defended their lead for the
remainder of the race. Many of these athletes have returned in this
year's U23 eight. Additionally, many of them have something in common:
they row and study in America. For example Bram Schwarz, Simon van
Dorp, and Michiel Mantel all row at the illustrious University of
Washington. Maarten Hurkmans represents the University of California –
also known as the bears -, and Max Ponsen rows in the colours of
Boston University. Furthermore, Lex van den Herik, Jaap Scholten, and
Michiel Oyen all rowed in the winning Dutch Eight at the World Cup in
Belgrade, proving they have what it takes to perform at World class
level.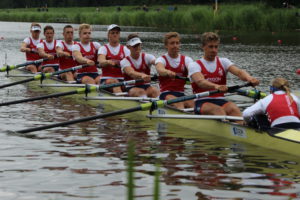 Then the Juniors: since 2013, coach Ronald Florijn has been building
towards a successful Junior rowing squad, with the eight as a central
focus. This culminated into a gold medal at the 2015 Junior World
Championships in Rio. This year's eight however, hasn't reached
that level so far. They ended up in 5th place. The Juniors showed
their improvement in yesterday's final, posting an impressive 5:38 time.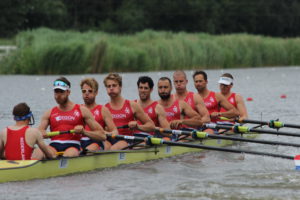 This afternoon the Junior and the U23 Eight will line up against their
senior counterpart, and many would not be surprised if they succeed
to cling on to the National Eight. The future for Dutch Men's rowing
is looking bright. Although a Olympic Gold medal in the Men's Eights
has not been won for more than 20 years, the chances that the crew from
1996 will have a successor are definitely growing.