Jun 08, 2017
Ondřej Synek and Damir Martin among first confirmed entries Koninklijke – Holland Beker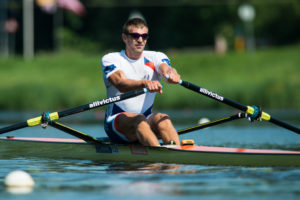 The 124th edition of the Holland Beker is now less than a month away, and the first international entries are being confirmed. Among them is the multiple World- and European Champion in the single sculls, Ondřej Synek. The four-time winner of the Holland Beker trophy recently showed his form at the 2017 European Championships on his home waters in Racice, where he claimed the title with a dominant performance.
Synek vs. Martin
Synek will not be rowing to his fifth Holland Beker victory that easily however, for Croatian sculler Damir Martin will also be present at the Bosbaan. Martin stunned the rowing world last year in the Olympic final, where he was narrowly beaten by reigning Olympic Champion Mahe Drysdale after a breathtaking final sprint towards the line. Ultimately, after photo-finish examination, Martin was awarded the silver medal, while Drysdale retained his title. With Martin's participation, the Holland Beker will surely see fireworks.
International Crews
In the men's pair, Josh Booth and Josh Dunkley-Smith from Australia have confirmed their attendance. The Olympic silver medallists from the 2016 Olympic Games in the men's four have teamed up in the pair and have chosen to compete at the Holland Beker Regatta and Henley Royal Regatta this year. Other international competitors making their way to Amsterdam will be among others a women's crew from Boston College, competing in the women's eight and the U23 women's four, and lightweight rowers from France and Japan. These rowers and many more will race on the iconic Bosbaan course on the weekend of June 24th & 25th . More entries will be confirmed the following weeks, but one thing is certain: rowers at the Koninklijke – Holland Beker will be competing with the best!